Rising Star Quilter
Julie Baker - Artist and Quilter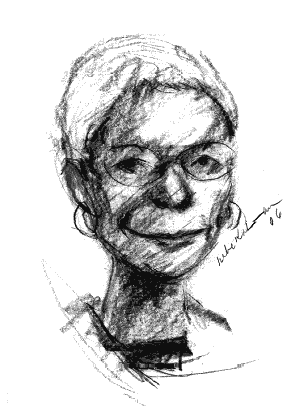 Artwork is by artist Rebeka Walker
Julie Baker came to quilting from a painting background. Quilting allows her to paint with the fabrics she enjoys.
A quilt exhibit at the Charles H. Wright Museum of African American History opened Julie's eyes to the craft. Among the African American quilts, she found the quilt, "Windows and Doors" by Pearl Cook, especially inspiring.
Julie carries her hand piecing with her on her daily tasks. She shares her quilting and inspires new quilters.
"I like being around positive, creative people. That is why I am a member of GLAAQN & Hartford Quilting Sisters."
For Julie, quilting is an art form. She talks through her artwork. A mixed technique quilter, she looks for words on fabric plus writes her own words. She now uses fabric in her paintings. "I have a hard time picking material; all colors are my favorite." "Since 2002, I have completed 4 hand pieced and quilted baby blankets for the Kiwanis Club, and machine pieced and hand quilted twin and full sized bed quilts."
"I am a cancer survivor. I ask everyone to, please, do monthly, standing and lying, breast self-exams, and to get a yearly mammogram and pelvic exam. Also, remind the man in your life to get checked for prostate cancer."