Our orgainization, the brain child of Justine Burnell, has become reality. We had our first planning meeting in 2002 and we came up with a name for our organization. In 2003, we drafted our By-Laws, and decided on our meeting format. We have our tax ID number and we are now listed as a non-profit organization.
Our first annual quilt conference was held on June 07, 2003 at Schoolcraft College in Livonia, Michigan. For this event, we adopted the Sickle Cell Foundation of Detroit as our charitable organization.
We are asking for donations of lap and twin sized quilts for children with Sickle Cell. The quilts should be no smalled than 58 inches square and no larger than 60 inches by 80 inches. We hope you will take this opportunity to join us on the road to become a new force in the quilting world.
Guild Officers President - Wanda Nash
Vice President - Theadra Fleming
Secretary - Alice Daniels
Treasurer - Willa Ray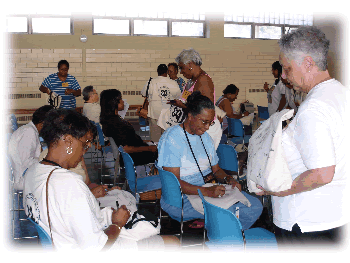 Guild Objectives
To promote and preserve the art of quilting and related fiber arts in the Great Lakes African American community.
To sponsor workshops, lectures, displays, projects, and occasions for African American Quilt makers in the Great Lakes area to meet for fellowship.
To engage in charitable efforts deemed advisable by the membership